It's A Family Affair: Historical Community Works Together

---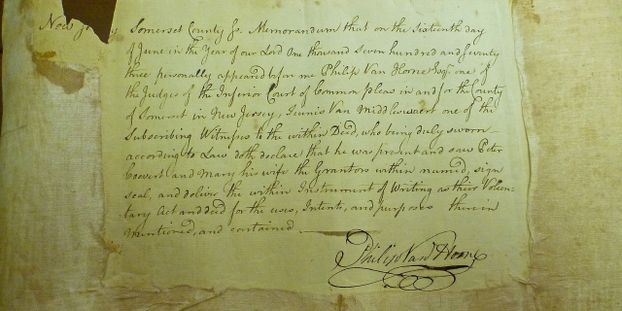 May 2018. The Society of Colonial Wars in the State of New Jersey awarded the society funds in the amount of $5,351.75 for Phase 1 of the deed conservation of seven 18th century manuscripts and one corresponding map. These documents were received as a donation from Wilhelm Schmidt of Allentown, PA in 2015. Phase 1 of the deed conservation will be used for the conservation of five of these manuscripts which will be perfomed by the Conservation Center for Art and Historical Artifacts in Philadelphia. SCHS is very appreciative of the funding as the conservation work on these important manuscripts would not be possible without it. We hope to receive additional funding at a future date to complete conservation of the remaining 2 manuscripts and one map.
In 2018, the Somerset County Historical Society received a State/County History Partnership (SCCHP) Grant in the amount of $2,200. This was the second consecutive year that SCHS received a Grant of Operating Support from SCHPP , which is administered by the Somerset County Cultural & Heritage Commission and funded by the New Jersey Historical Commission.
June 9th, 2018 Van Veghten House extended visiting hours to 4 PM to welcome members of the NJ League of Historical Societies who were attending their Spring Meeting at the Heritage Trail Association's headquarters in The Van Horne House. We joyfully welcomed an unusually larger than usual number of enthuiastic visitors to our second Saturday open house. Want to learn how to give tours too? Send us an email on the Contact page. Or call the Society phone and leave a message with your contact information.
May 2018 Somerset County's Cultural and Heritage Office conducted a workshop for addressing the federal legislation called Americans with Diabilites Act. Several historic groups in the county joined your Society's epresentative. The Society is forming a standing committee to explore next steps for making our historic site and programming more welcoming and accessible to all. If you are interested in being part of our effort, please leave a message on the Society phone line.
The Society of the Sons of the Revolution in the State of New Jersey (SRNJ) has generously donated $1,000.00 to the Somerset County Historical Society. This donation has allowed us to have eight 18th century manuscripts assessed for conservation at the Conservation Center for Art & Historic Artifacts in Philadelphia. Special thanks go to Dr. Robert Olson of SRNJ who visited Van Veghten House in July and recommended the donation for our archival program. Much appreciation is also due Michael Alfano, SCHS trustee (and SRNJ member) who solicited the funds from SRNJ.