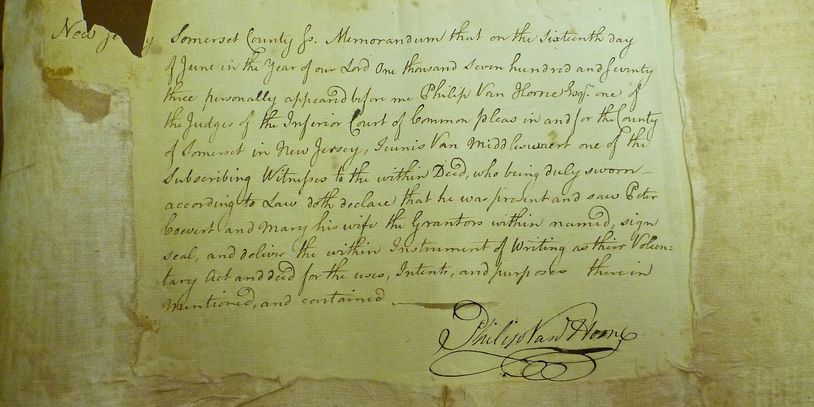 November 2019 The Society is pleased and proud to announce we have received a $2000 History Partnership Program Grant from The NJ Historical Commission, which is administered by the Somerset County Cultural and Heritage Commission for 2020.
August 2019 - Phase 2 of the manuscript conservation has been funded by The Society of Colonial Wars in the State of New Jersey. Thank you! We are eagerly awaiting the completion of the remaining two 18th century indentures and accompanying map by the Conservation Center for Art and Historic Artifacts in Philadelphia.
June 8 2019 - A consortium of county historical groups including the Somerset County Historical Society, Friends of the Abraham Staats House, Heritage Trail Association, sponsored the 3rd Middlebrook Encampment Seminar. The event included presentations by several specialists, lunch and opportunity to visit the remains of a redoubt on the Watchung mountain. The group plans to publish copies of the presentations.
March 2019 - The Somerset Library System continued its Common Heritage project to digitize and record oral histories of county residents this spring. First release of digital photos and descriptions became available easured objects to a library site and go home with a USB file copy of your items and the satisfaction of preserving your precious family history electronically.