It's A Family Affair: Historical Community Works Together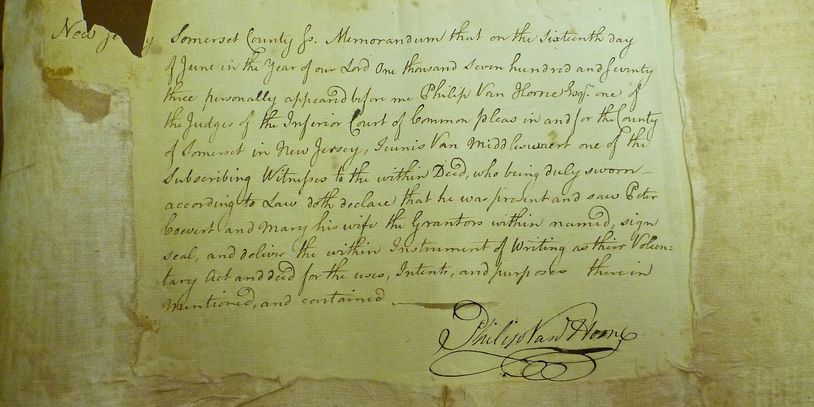 March 2019 The Somerset Library System will continue its Common Heritage project to digitize and record oral histories of county residents this spring. Bring your treasured objects to a library site and go home with a USB file copy of your items and the satisfaction of preserving your precious family history electronically! Watch for publicity about locations and dates.
June 8 2019. A consortium of county historical groups including the Somerset County Historical Society, Friends of the Abraham Staats House, Heritage Trail Association, sponsored the 3rd Middlebrook Encampment Seminar. The event included presentations by several specialists, lunch and opportunity to visit the remains of a redoubt on the Watchung mountain. Currently, the group plans to publish copies of the presentations. Stay tuned for more.
March 2019. The Society is pleased and proud to announce we have received a $3000 History Partnership Program Grant for program year 2019 from the Somerset County Cultural and Heritage Commission.
February 2019. SCHS and Van Veghten House once again participated with The Heritage Trail's bus tour of the 5 houses where Revolutionary War generals stayed during the second Middlebrook Encampment. This year saw positive changes which included smaller buses, personal audio assistance devices and 2 more tour time slots! Hope you had a chance to participate. Kudos to the organizers.
September 2018. Phase 1 of the manuscript conservation has been completed . The five completed manuscripts have been returned to the Archives Collection and we hope to display one of the deeds at an upcoming meeting. Thank you again to The Society of Colonial Wars of New Jersey for their generosity in financing the conservation. The remaining two indentures and accompanying map are being held at the Conservation Center for Art and Historic Artifacts in Philadelphia as we secure additional funding.